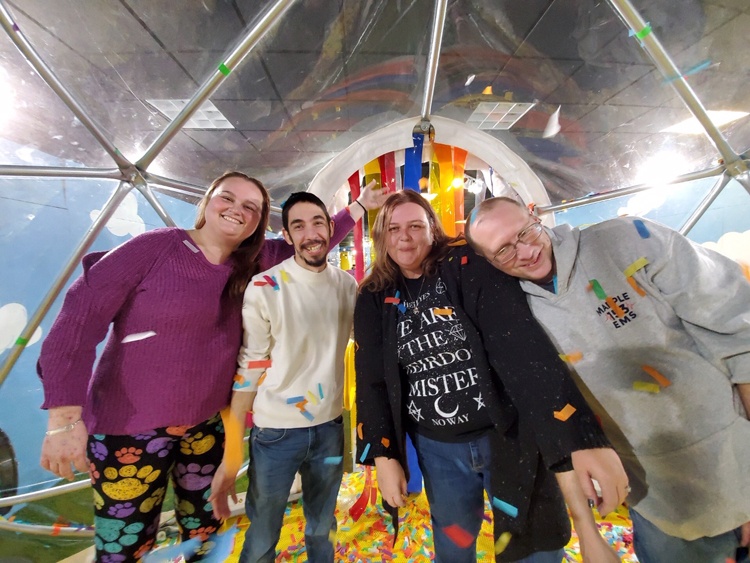 If you are in search of the perfect way to spend a fun-filled evening with family and friends then we highly recommend taking a visit to the Happy Place pop-up experience (hint, hint: it is a great idea for a fun holiday experience). It is truly an Instagram dream come true! It is the perfect place for individuals who are in search of something unique and fun to do while actually having an experience with one another. After all, these days it's more about experiences and sharing memories (especially via social media) then just visiting a place to stare at exhibits. The best part is that it works for individuals of all ages! We also adore Happy Place's mission statement which says:
HAPPY PLACE was created because we BELIEVE that our world today can use a lot more happiness. To make this DREAM come true, we set out on a journey to create a special place where anyone who walks in is surrounded by all things HAPPY.
Individuals love the interactivity and Happy Place provides it in abundance! The Age Of The Nerd staff had such a great time touring through the various themed rooms and art installations that it felt like we were transported into a different realm from the hour or so that it took for us to tour this amazing pop-up experience. It was great to be able to let loose, have some fun and capture some amazing photo opportunities and Happy Place definitely lives up to its name, as by the end of the experience we were all without a doubt happy and any daily stress just melted away!
We visited the Happy Place location in King of Prussia Mall in Philly which will be in place until February 2020 and were immediately greeted by some incredibly friendly and helpful employees and our guide through the exhibit was just amazing. She provided us with some background information on some of the artists who assisted with putting together the room installations and artwork and was on-hard to recommend some better camera angles, Instagram/Boomerang shots, and capture some fantastic group shots of us having the time of our lives during the tour. We all shared a ton of laughs!
Once you enter Happy Place you basically follow a trail that leads you to the various installations where you can spend time at each installation capturing photos and interacting with the scene. We could see that on crowded days this could get a little jammed up at some of the more popular photo opp spots, however,  Happy Place does sell tickets in half-hour time increments so that it cuts down a bit on any overcrowding that could take place. During our tour, there were about five or six other people touring the pop-up at the same time and we didn't run into a single issue with over-crowding or getting in each other's way.
Each room that you enter is a full-on multi-sensory experience and there were endless ways to pose for photos. Some of our favorite rooms included the red lips room with the large mirrored "X &O", the Super Bloom room, the giant chocolate chip cookie room, the yellow rubber duck room with the bathtub, the giant rainbow room with the pot of gold ball pit, and of course the awesomely fun confetti dome! I will note however that while jumping into the ball pit was tremendously fun, getting out was a bit difficult for anyone that might have mobility issues!  I was hilariously stuck for a good number of minutes, but hey it was still all in good fun!
Other than that small hiccup there was really no downside to visiting Happy Place and we can definitely say it is worth the price of admission. A visit to Happy Place would make a perfect and unique date night idea for a couple, a fun way to spend time with family members, and an excellent experience for a group of friends to share smiles and laughter.
Currently, Happy Place has two locations. One is in the King of Prussia Mall near Philadelphia, Pennslyvania and the other is located in Mandalay Bay in Las Vegas, Nevada. Happy Place has already brought tons of smiles to the cities of Los Angeles, Chicago, Toronto and Boston as well, so we can't wait to see where the Happy Place tour will end up next! It is definitely worth a visit when Happy Place comes to a city near you!
Founded by Jared Paul and opened originally on November 20, 2017, the massive pop-up experience is filled with larger than life-size installations, multi-sensory immersive rooms, and dozens of moments curated to Capture Your Happy!
Snap and post tons of photos and be sure to tag @wearehappyplace and use the hashtag #wearehappyplace to share your experiences! Also, to be the first to keep up on all things Happy Place, sign up for news here!
You can see more of our photos below: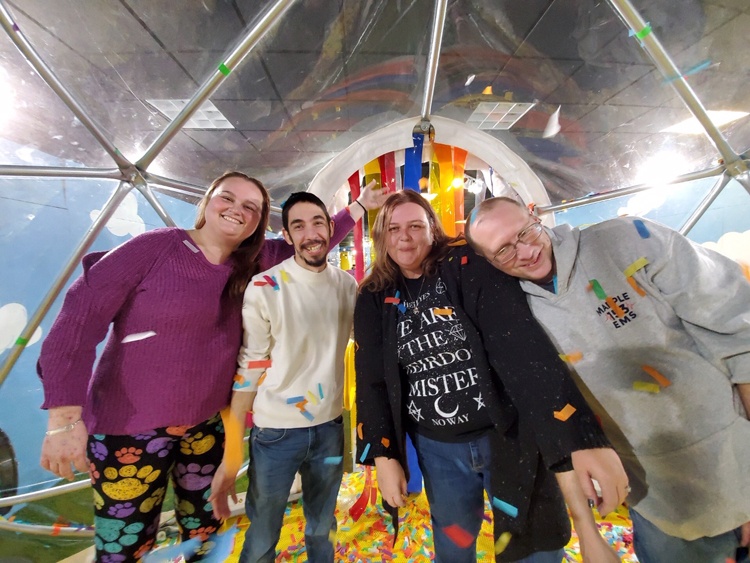 The post Our Amazing Experience Visiting Happy Place! appeared first on Age of The Nerd.